DO YOU NEED TO SKIP YOUR NOVEMBER OR DECEMBER LOAN PAYMENT?
TALK TO US ABOUT OUR HOLIDAY SKIP A PAYMENT. ($35 FEE)
******SAVINGS SPECIAL******
WE ARE OFFERING A 1 YEAR CERTIFICATE OF DEPOSIT AT 5.25% APY FOR NEW MONEY DEPOSITS.
Services
Courtesy Pay Overdraft Plan
Home Banking with Check Images
Bill Payment
Overdraft Protection Line of Credit
Payment Protection Plans
Extended Warranties
Carfax Reports
Direct Deposit/Payroll Deduction
Wires Incoming/Outgoing
Visa Prepaid Reloadable Cards
Notary
Money Orders
Financial Counseling
Your sound financial future is important to us. That is why we offer free financial counseling. Counseling includes starting a savings plan all the way to improving your credit rating. We have plans to help you reach your goals. We are here to help you with:
Create a personal budget
Learn to reduce debt and save more
Create a spending plan
Improve your credit rating
Create a plan for meeting short and long term savings goals
Call the Loan Dept. for an appointment at (601) 948-8191, ext 310 or ext 311. Please complete the Budget form and bring with you.
GAP and ADR Protection
If you think your auto insurance covers you financially . . . think again!

With GAP and ADR Protection you won't have to worry about the amount the insurance company does not pay on your loan should your auto, RV, boat, etc. get stolen or totaled. Plus it will pay up to $500 of your insurance deductible and pay up to $1000 toward a new purchase.

This can be added to all loans or pre-paid for only $499. Call the loan department for more details.
GET YOUR GIFT CARDS FROM THE CREDIT UNION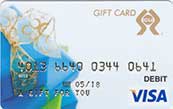 The Credit Union also offers Visa Gift Cards. Gift Cards are the perfect solution for your gift giving, or travel plans, or internet purchases, when you don't want to use your personal debit/credit card. The cards will be available for a small fee of $3.25. Perfect for all occasions. We have several scenes for you to choose from.
To report a lost or stolen Gift Card, immediately call 1-866-833-2370
Go Paperless with eStatements
A GREEN alternative to better manage you bank statements!

Sign Up Now or View Statements
Order Checks
THIRD PARTY SITE DISCLAIMER
- By accessing the noted link you will be leaving the Mississippi Public Employees CU website and entering a website hosted by another party. Mississippi Public Employees CU has not approved this as a reliable partner site. Please be advised that you will no longer be subject to, or under the protection of, the privacy and security policies of the Mississippi Public Employees CU website. We encourage you to read and evaluate the privacy and security policies of the site you are entering, which may be different than those of Mississippi Public Employees CU. CLICK CONTINUE TO CONTINUE OR CANCEL TO ABORT.
Continue
Cancel